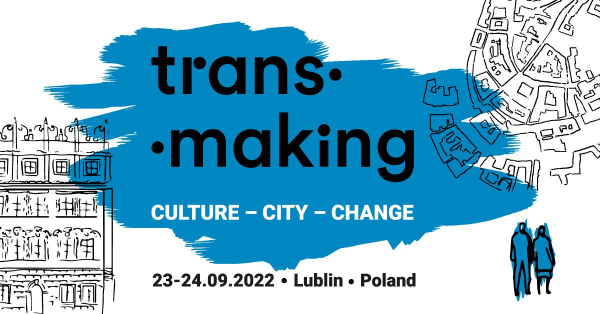 23
to
24 September 2022
, -
Our partner Workshops of Culture organises in Lublin on September 23 and 24, 2022 the last event within trans-making project "CULTURE – CITY – CHANGE".
Partners from France, Spain, Egypt, Chile, and Turkey will attend the meeting in Lublin, together with participants of the trans-making project from Workshops of Culture. At the event, we will share and discuss the findings of the research we conducted on research trips as well as our thoughts on issues facing modern cities and the impact of culture on urban development. We'll talk about how to make cities better places to live as well as the role that culture can and should play in supporting these changes. We'll look at the best practices from across the world and discuss Workshop of Culture experiences in Lublin.
War in Ukraine is also a very important issue. One of the main tenets of the trans-making project is to find ways to strengthen European democratic processes. The war in the middle of Europe in the 21st century is a prime example of how crucial it is to foster fundamental democratic values and guarantee Europe's long-term sustainability
This two-day event consists of the conference (Friday, 23 September) and workshops (Saturday, 24 September) which require registration via online forms available at warsztatykultury.pl/en
Exhibitions, workshops, and concerts will be held in conjunction with the conference.

More information about the event.