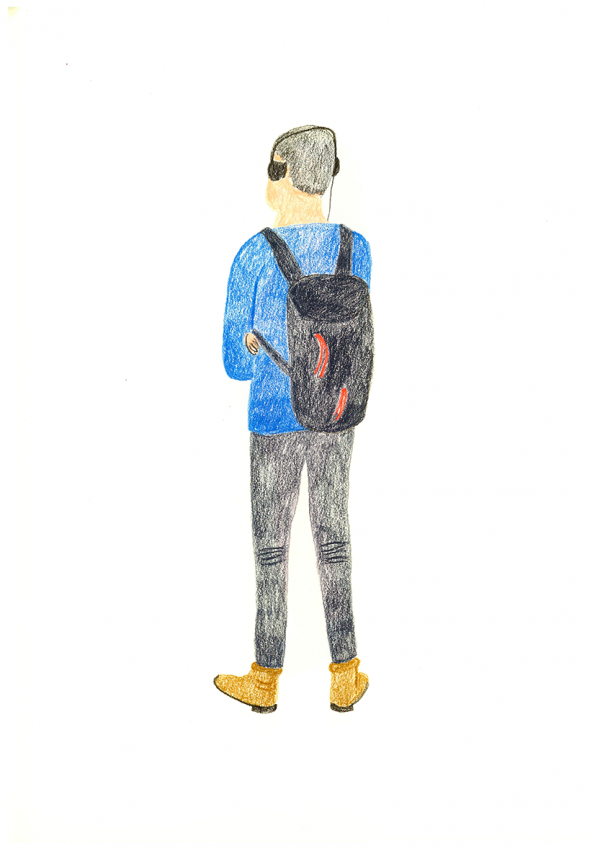 The story of those who pass by is a story of encounter, a story of lack, a gesture against the escape, a few lines with coloured pencils to hold on to and review again, a hand that is stretched out, a memory in drawing. It is a drawn collection of missed encounters, of those who crossed my road and my look in the streets of Paris. A silent and immobile collection, on a white background where space is to be reinvented, where everything becomes possible. A sensitive mapping of the human landscape.
The aim is to consider the public space as a place conducive to creation, a continuous source of inspiration and stories in the making. Through observation, experimentation in drawing and text, a collection of portraits is created. Through my hand, my eye, it is the body of these others, anonymous, that emerges and exists - bodies in action, mine, that of others, in space.
Like a choreography made of memory, displacement and brushing, the drawn collection produced becomes a material database of a new approach to public space. Shoes, pants, faces, coats, etc., clues are taken and other stories are possible. Who are these others? Where are they going? Where do they come from? It is a question of being attentive, of rediscovering this look at the immediate, of opening one's ear and drawing up an impossible map that locates strangers in movement, a present that is no longer there. 
Methods:
Exploring / Experimenting
Topics:
#public space, #artistic practice and production, #experimentation, #drawing, #portrait, #human body, #creation, #creation space, #territory, #mapping, #collection, #memory, #art-based research, #practical experiences, #performance, #1.1 ENGAGED COLLECTIVE CULTURAL PRACTICE, #1.4 EUROPEAN CONSTRUCTION AND CULTURAL POLICY, #2.3 TENSIONS HYBRIDITY AND TRANS